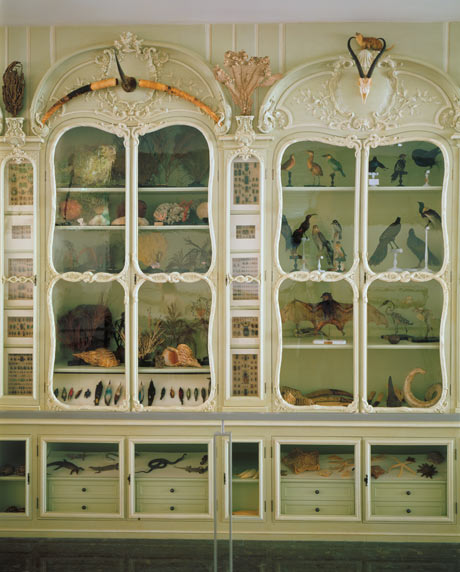 Two weekends ago, I traveled back in time to an age when science and art, nature and religion, and truth and beauty weren't so disconnected as they are now. In the Renaissance, rich men collected natural specimens for display in rooms and cabinets called Wunderkammern.
They would host parties where guests would philosophize on the structure and order of the natural world. Two notable descendants of the wonder cabinet phenomenon live on today: circus freak shows and natural history museums. A
very interesting article
in
Cabinets
magazine presents more history of this phenomenon. For more info or nice photos, check out the
Kircher Society
,
ArtLex
, and
this blog
.
World's Fair
is even a blog
inspired by
cabinets of curiosity and wonder rooms.
My introduction to Wunderkammern was via the
Pratt Fine Arts Center
. I took an assemblage course called "Assembling The Modern Wonder Cabinet." It was cathartic for me to escape (for a few hours a day, at least) from the lab to engage in an activity more creative and less analytical than my current scientific endeavors. It was also really fun to work in a class environment where everyone was enthusiastic to help each other. Art, like science, can be more meaningful when conducted in a collaborative environment.
I have included here a few images of my colleagues' cabinets. Click on the photos or visit my
Flickr
page for larger images. We will all be part of a show at Seattle's
Center on Contemporary Art
from August 25-September 25, 2007. Stay tuned for more information about that.
My piece (at left) is a 12" x 16" man's jewelry box that opens to reveal an arrangement of rodent parts. The bones were collected and sorted from owl pellets, while the soft tissue is fixed and paraffin embedded, as would be done for tissue specimens in research labs and hospitals. It is titled,
Gratiaedonatus oriens.
The italicized Latin name evokes the genus and species binomial nomenclature biologists use to classify organisms.
For a directory of the parts displayed and more cabinets, please visit my
Flickr
page
.
This course opened for me many doors to new ideas. It will be fun to explore the intersection of science and art as I assemble future Wunderkammern.
Thanks to Ipei for the pictures.